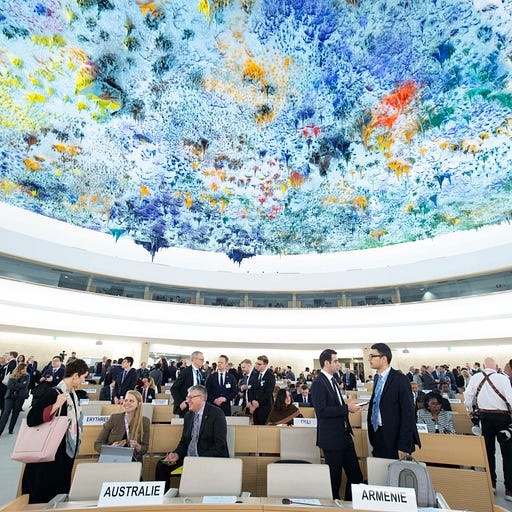 Mar 8
WHO Policy Brief on Ageism and AI
Interview with Dr. Vania de La Fuente Nunez, WHO
Hear first hand from the diplomats, tech executives, investors, UN and EU officials that are changing the world through dialogue and are using emerging technologies for good.
Interview with Dr. Vania de La Fuente Nunez, WHO
We spoke about the Policy Brief issued by WHO on AI and Ageism, the risks of exacerbating inequalities, the WHO Report on Ageism and how women are particularly affected when it comes to getting loans and receiving funding for their startups.
While Artificial Intelligence has the potential to improve primary healthcare, monitoring of diseases, and drug development, biases on the design of algorithms will just perpetuate discriminations.
Dr. Vania de La Fuente Nunez manages the Global Campaign to Combat Ageism at WHO and is one of two lead authors of the first global report on ageism. Dr. de La Fuente Nunez is a physician who first joined WHO in 2014 to develop ethics guidance in the context of the Ebola epidemic and support the Secretariat of the WHO Research Ethics Committee.
She contributed to the launch of the Global Observatory on Health Research & Development. Prior to her work at WHO Dr. de La Fuente worked with various NGOs and research institutes in both high and low-income countries including Spain, Senegal, and the Gambia. Dr. de La Fuente Nunez holds an MD from the University of Santiago de Compostela; an MA in Philosophy, Politics and Economics of Health from University College London; and has completed a BA in Social and Cultural Anthropology.
---
IPU Event - 15 March
One decade on: How gender-sensitive are our parliaments now? 15 March, side event Jointly organized by the IPU and UN Women on the occasion of the Commission on the Status of Women.
---
On the Economic Impact of Violence Against Women:
Wage Loss, Career Stalling, Trauma in Their Children
What does article 18 of the Convention on the Elimination of All Forms of Discrimination Against Women says about countries' responsibilities on reporting its implementation?
"Article 18 of the Convention provides that States parties to the Convention shall submit to the Secretary-General, for consideration by the Committee, a report on the legislative, judicial, administrative or other measures that they have adopted to give effect to the provisions of the Convention and on the progress made in that respect. Reports are to be submitted within one year after the entry into force of the Convention for the State concerned and thereafter at least every four years and, further, whenever the Committee so requests." Source: UN Office of the High Commissioner for Human Rights website
Interview with Nathalie Fontanet, Geneva State Councillor in Charge of Gender Equality Promotion
Ms. Fontanet is a champion for women's rights and shared her hopes for a workplace that elevates women and a future where women's participation in civic life is the norm.
We spoke about the disparities in salaries for women in Switzerland, how he State of Geneva is addressing the issue of domestic violence by integrating a victim-centred approach, and how the Swiss criminal code and judiciary system is updating legislation to bring it in line with the Council of Europe's Istanbul Convention on what is sexism, rape and consent, in the framework of human rights violations.
Mrs. Fontanet also brought to light a topic that is not very often discussed, how women do not help other women in the career ladder, what is called internalised misogyny in the academic literature, as described by the American scholar Kate Manne, on her book Down Girl: The Logic of Misogyny. We also spoke about how important it is to educate boys, young men, as well as grown-up men on what constitutes equality in the workplace.
We also spoke about making workplaces free of sexual harassment and rape, and unconscious bias when men are given the opportunity to support women in their careers, and how they can create opportunities to make workplaces more equitable.
---
Everyday Sexism | Sexism in Medicine
In May 2020, UN Secretary General Antonio Guterres, in a speech at an inaugural lecture at the New School, cited Carolina Criado Perez book on how women are not counted, Invisible Women, as discussion of pervasive bias in algorithms and design of tools and services come to the fore, and how British scholar Elinor Cleghorn explores on her new book on the history of medicine's sexism, from Hippocrates to today.
"The historian Mary Beard has identified the deep historical roots of patriarchy in western culture. In the Odyssey, written three thousand years ago, Homer describes Telemachus telling his mother, Penelope, to be quiet and to leave the talking to men. Unfortunately, Telemachus would not be out of place in some of my meetings today.
Patriarchy – a social system founded on inheritance through the male line – continues to affect every area of our lives. We are all – men and women, girls and boys – suffering the consequences. Male-dominated power structures underpin our economies, our political systems and our corporations.

Even Hollywood fame does not protect women from men who wield physical, emotional and professional power over them. I salute those who have courageously spoken up and fought back. A hidden layer of inequality is built into the institutions and structures that govern all our lives – but are based on the needs of just half the population. The writer Caroline Criado Perez calls this "default man" thinking: the unquestioned assumption that men are standard, and women the exception." UN Secretary General Antonio Guterres, May 2020
---
ILO World Social Protection Report 2020-2022
How unpaid care work affects women's wages through life and pension later on, making poverty levels of older women substantial in developed as well as developing countries
September 2021
The International Labour Organization launched its flagship report on the state of social protection around the world today in Geneva. ILO Director-General Guy Ryder presented the findings alongside ILO's Gender and Social Development expert Shahra Razavi.
What You Have to Retain
"More than 4 billion people still lack social protection."
There is also glaring insufficient administrative capacity in low-and-middle income countries on the development and design of social protection policies and delivery of services. ILO's Director-General Guy Ryder said the U.N. labour agency can play a role here, supporting countries that want to design forward-thinking programs, based on best practices observed by ILO experts around the globe.
Argentina is a good example on social protection schemes for mothers and children, as well as its pension reforms to include women's time away from the labour force to take care of and educate children to be included in the calculation of their pensions.
Portion of GDP that is spent on social protection floors
Developed countries spend 12.8% of the GDP on social protection programs.
Middle-income 8% of their GDP.
Low-income countries invest a meager 1.1% of their GDP.
Fiscal Policy Space
There is clearly fiscal policy space to address an increased need for social protection floors, stated ILO's DG, as well as the question of progressive taxation.
For low-income countries there is talk of a Global Fund for Social Protection in the hallways of the UN, carried by the Office of the Higher Commissioner for Human Rights Special Rapporteur on Poverty. UN Human Rights Commissioner, Michelle Bachelet, will present the ILO report to the wider public tomorrow, alongside UN Deputy Secretary-General Amina J. Mohammed, the outgoing Executive Director of UNICEF, Henrietta Fore, and ILO's DG Guy Ryder.
ILO's DG also emphasized the event that will take place at the UN General Assembly in the coming weeks, when heads-of-state speak, in late September. UN Secretary-General Antonio Guterres will address the GA calling for adaptation and mitigation measures, social protection as a human right, and decent work as an anchor to dignity. UN SG will stress ethical and rational reasons for decent work to tackle social justice.
Technology plays a vital role in the delivery of services but there are caveats. On the question of pensions, while 77% of the world's population of retirement age receives a pension, the amount of benefits received leaves most under the poverty level as the pensions do not take into account indexation to current cost of living in developed as well as developing economies, with women the most affected, as they spend time away from the labour force as it falls upon them on most societies to take care of children, the sick in their families, and elder relatives, stated Ms. Razavi, ILO's Gender and Development lead. Something that was observed by countless studies on the impact of the pandemic on women's careers and lifetime earnings.
Check the full report
here.
Pay-Gap: Women and Vulnerable Work
Source: UNU-WIDER United Nations University / OECD
By Maria C. Lo Bue, Research Associate at UNU-WIDER, Lecturer in the Department of Economics and Finance, University of Bari; Tu Thi Ngoc Le, Tu Thi Ngoc Le, PhD in Economics, Hoa Sen University; Manuel Santos Silva, Postdoctoral researcher at the Centre for Interdisciplinary Economics, University of Münster; and Kunal Sen, Director of UNU-WIDER; Professor of Development Economics at the Global Development Institute, University of Manchester
The gender pay-gap is one of the foremost indicators of gender inequality and thus a guide for women's economic empowerment policies.
"This
paper
investigates gender inequality in vulnerable employment: forms of employment typically featuring high precariousness, inadequate earnings, and lack of decent working conditions."
The majority are in developing countries, where most workers are self-employed and do not receive a regular wage, making it difficult to measure "pay gaps for similar work".
In a recent study for the United Nations University, we took a different approach, examining the gender gap in vulnerable employment in 101 developing countries worldwide. The results have important implications for policymakers.
The gender gap in vulnerable employment shows the discrepancy between the share of women employed in jobs with poor working conditions, relative to the share of men. Our analysis finds that these gaps are large across developing countries on average, that they tend to be bigger in poorer countries or countries with discriminatory laws against women, and that the biggest driver of the gender gap reflects the outsized impact of marriage and parenthood on women.
Women are over-represented in vulnerable employment
One of the starkest inequalities in the labour market is between workers employed in decent work and those in vulnerable employment.
The ILO estimates that over half of all employment in low- and middle-income countries is vulnerable, often characterised by low wages as well as lack of formal work arrangements, access to benefits and social protection programmes, as well as greater exposure to economic cycles.
"Workers in vulnerable employment – technically classified as own-account workers (people working for themselves) or contributing family workers (people working for their family without pay) – lack many of the labour protections and decent working conditions of wage employees or employers."
In developing countries, we find that 57% of working women are in vulnerable employment, on average, compared with 48% of men.
There is substantial regional variation, with the gender gap ranging from 16-17 percentage points in South Asia and the Middle East and North Africa, to 1 percentage point in Europe and Central Asia (Figure 1).
The findings show that women are more likely to work in vulnerable employment than men with similar characteristics (in terms of age, education, marital status, etc.) across many dimensions: within countries, sub-national regions, industries, occupations, and even within households.
Indeed, in our most restricted comparisons – men and women with similar characteristics living in the same household – women are, on average, 7 percentage points more likely to be vulnerably employed than men.