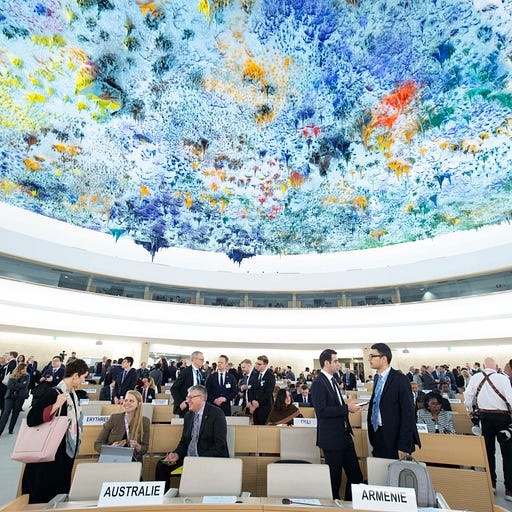 Mar 22
All About AI: Interview with Luis Lamb, Visiting Fellow, MIT
What are Neurosymbolic Models? Interview with Dr. Luis Lamb, Visiting Fellow MIT, Full Professor at UFRGS (RS), Brazil, and Former Rio Grande do Sul's State Secretary of Science and Technology
Hear first hand from the diplomats, tech executives, investors, UN and EU officials that are changing the world through dialogue and are using emerging technologies for good.
What are Neurosymbolic Models?
Why the Hype Around Machine Learning?
What is Artificial Intelligence? What Should We Regulate?
To answer these and other questions we interviewed Dr. Luis Lamb, Visiting Fellow MIT, Full Professor at UFRGS (RS), Brazil, and Former Rio Grande do Sul's State Secretary of Science and Technology.

Follow us on Twitter @MayaPlentz  Watch on YouTube 
Listen to our interviews on Apple Podcasts and Buzzsprout
---
UN Human Rights Council 22/03
Presentation of report of the Special Rapporteur on minority issues, Fernand de Varennes, addressing conflict prevention through the protection of the human rights of minorities, and on his mission to the United States of America, followed by an interactive discussion.
Watch my March 2021 interview with Dr. De Varennes
Presentation of report on the 27th annual meeting of the special procedures of the Human Rights Council (31 Aug-3 Sept 2021), including an annex with facts and figures.
World Water Day, 22 March 2022
March 24
International instruments. Is your country a signatory?
Declaration on the Protection of All Persons from Enforced Disappearance (1992)
Basic Principles and Guidelines on the Right to a Remedy and Reparation (2005)
International Convention for the Protection of All Persons from Enforced Disappearance (2006)
Countries are expected to show implementation and the efforts made to respect their human rights obligations and commitments as signatories of international human rights treaties, such as the
International Covenant of Civil and Political Rights.
For the complete list of treaties that countries have obligations to, if they are signatories, check
here.
"The documents on which the reviews are based are 1) national report - information provided by the State under review; 2) information contained in the reports of independent human rights experts and groups, known as the Special Procedures, human rights treaty bodies, and other UN entities; 3) information provided by other stakeholders including national human rights institutions, regional organizations and civil society groups." UN HRC
Watch related interviews by The UN Brief with the UN Human Rights Council Special Rapporteurs in 2021
---
The UN Brief coverage of AI
Interview with Dr. Vania de La Fuente Nunez, WHO
We spoke about the Policy Brief issued by WHO on AI and Ageism, the risks of exacerbating inequalities, the WHO Report on Ageism and how women are particularly affected when it comes to getting loans and receiving funding for their startups.
While Artificial Intelligence has the potential to improve primary healthcare, monitoring of diseases, and drug development, biases on the design of algorithms will just perpetuate discriminations.
Dr. Vania de La Fuente Nunez manages the Global Campaign to Combat Ageism at WHO and is one of two lead authors of the first UN Global report on ageism. Dr. de La Fuente Nunez is a physician who first joined WHO in 2014 to develop ethics guidance in the context of the Ebola epidemic and support the Secretariat of the WHO Research Ethics Committee.
She contributed to the launch of the Global Observatory on Health Research & Development. Prior to her work at WHO Dr. de La Fuente worked with various NGOs and research institutes in both high and low-income countries including Spain, Senegal, and the Gambia. Dr. de La Fuente Nunez holds an MD from the University of Santiago de Compostela; an MA in Philosophy, Politics and Economics of Health from University College London; and has completed a BA in Social and Cultural Anthropology.
AI and Digital Diplomacy
How is digital diplomacy evolving? What are the pitfalls and how can we harness its potential? How are early career diplomats adopting digital tools to advance their countries interests and to develop coherent public diplomacy strategies online and offline?
The UN Brief interviewed career diplomat Alejandro Ramos Cardoso, Deputy Head of Mission at the Mexican Embassy in New Zealand. A scholar of public diplomacy, he has co-edited the Mexican Journal of Foreign Policy on the topic of public digital diplomacy, contributed to the The Hague Journal of Diplomacy, and to a book on digital diplomacy in Ibero-America, published by the Escuela de Relaciones Internacionales de la Universidad Nacional de Costa Rica, Diplomacia pública digital: el contexto iberoamericano.
---
FAO: Using AI to Deliver Humanitarian Aid
What is the Metaverse and what will be its future? To answer to this and other questions we interviewed Dr. Louis Rosenberg, a pioneer of AR/VR tech and CEO ofUnanimous AI, a company that works with organisations such as the UN Food and Agriculture Organisation (FAO), to help them predict famine and adjust delivery of humanitarian aide to countries experiencing crisis and food shortages caused by conflict and/or extreme weather events.
Judicial Systems, Artificial Intelligence, and Rule of Law
This coming November, at UNESCO's General Conference, the recommendations to guide the development and deployment of Artificial Intelligence will be presented in the hope of establishing a global ethical framework. The draft text was negotiated among country-members and stakeholders in the fields of technology and law for the past two years, and it incorporates the results of surveys and consultations with other civil society actors as well.
UNESCO offered training in AI and the rule of law to 23.000 members of the judicial system in 150 countries so far, and will continue the roll-out of AI and the rule of law courses in early 2022 (registration starts in November), as countries are asking for guidance in the development of their policies and in a broad range of governance issues.
UNESCO has also recently concluded an AI readiness assessment of 32 countries in Africa. What were the top issues that surfaced, which of these issues are common to all countries and which are unique to each?  For example, what are fragile countries' needs versus countries in post-conflict stages, and what does the latter requires, and what data governance countries experiencing peace process interventions must have in place, such as refugee camps? 
To get an overview of UNESCO's programs and upcoming agenda we interviewed Dr. Tawfik Jelassi, UNESCO Assistant Director-General for Communication and Information. In August he led UNESCO's delegation on the G20 meeting of Digital Ministers, that focused on "Technology: People, Planet, Prosperity".
For our interview he spoke at length about Africa, and the risks, threats and benefits of AI for society, in particular in the higher education and governance areas. Dr. Jelassi also spoke about the recent survey conducted to evaluate the different needs of governments to deploy and continue to expand the use of AI in public services in African countries.
Watch:
Dr. Tawfik Jelassi was appointed UNESCO Assistant Director-General for Communication and Information on July 1st, 2021. He is responsible for UNESCO's programs that build inclusive knowledge societies, lead digital transformation, strategize the role of ICT in education, and foster freedom of expression.
Dr. Jelassi holds an Information Systems Ph.D. from New York University, Stern School of Business, and postgraduate diplomas from the University of Paris Dauphine.
Most recently he was Programme Director and Professor of Strategy and Technology Management at IMD Business School, Switzerland, from 2015 to June 2021. 
He served as Minister of Higher Education, Scientific Research, Information and Communication Technologies in the democratic transition government of Tunisia, from 2014 to 2015.  Prior appointments include being Chairman of the Board of Directors of Ooredoo Telecom in Tunisia, Dean at Ecole Nationale des Ponts et Chaussées in Paris, and Professor & Chairman of the Technology Management Department at INSEAD's, Fontainebleau campus.