Discover more from The UN Brief
We report on the United Nations, Finance for Development, Peace and Security in Cyberspace, the UN Human Rights Council, Digital Rights, Cybersecurity, Intellectual Property, Big Data, Artificial Intelligence and much more. Copyright Maya Plentz
Over 12,000 subscribers
UNGA: Interview with SG Special Envoy on Tech, Amandeep Gill | Microsoft: Interview with Chris Sharrock, Vice-President, UN Affairs and International Organisations | WTO: Public Forum Wraps-up
Ambassador Guilherme Patriota Leads Panel on the Amazon Rainforest Environmental Goods, UN Tech Envoy Amandeep Gill Speaks About AI and Accelerating the SDGs
Welcome to our special edition of The UN Brief.
We are covering the UN General Assembly. Today you will find:
My interview with UN Secretary General Special Envoy on Technology Amandeep Gill, scroll all the way down. We spoke about AI in humanitarian settings, the growing digitalisation of the healthcare sector, and the mid-term review of the SDGs.

My interview with Chris Sharrock, VP of UN and International Organisations for Microsoft in Paris. We spoke about the SDG Summit, the Climate Ambition Summit as well as the work of Microsoft to bring connectivity to underserved populations in the Global South.

A guest article by Juan Lavista Ferris, Microsoft Chief Data Scientist on how they are helping Lybia with disaster management through AI and satellite imagery.

The WTO Public Forum highlights on the panel led by Brazilian Ambassador Guilherme Patriota, about the Amazon Rainforest on sustainable value supply chains and environmental goods that support indigenous communities.
WTO: Standing Ovation for Gordon Brown
It was a busy week here in Geneva. WTO Public Forum brought together ministers, ambassadors, NGOs, private sector, and international trade law scholars and experts to discuss how sustainable environment practices can permeate all aspects of global trade for the prosperity and preservation of the planet. Gordon Brown Presidential Lecture had a full-house, and a standing ovation followed his remarks.
Sustainable Trade in the Amazon
Discussions ranged from the rich biodiversity of the Amazon Rainforest and how SMEs can harness their unique place in the global trade ecosystem to contribute to sustainable practices in exports and supply chains, to the digitalisation of the WTO.
Ambassador Guilherme Patriota, Permanent Representative to the WTO at the Brazilian Mission to the UN in Geneva, moderated a panel on the Amazon Rainforest alongside representatives from Colombia, and the Brazilian government representative of the Ministry of Foreign Trade and Development, Heloisa Pereira. Also participating was Fernanda Stefani, the CEO of a Brazilian Amazon Rainforest company that exports certified organic, sustainably produced, ingredients for cosmetics and nutraceuticals worldwide.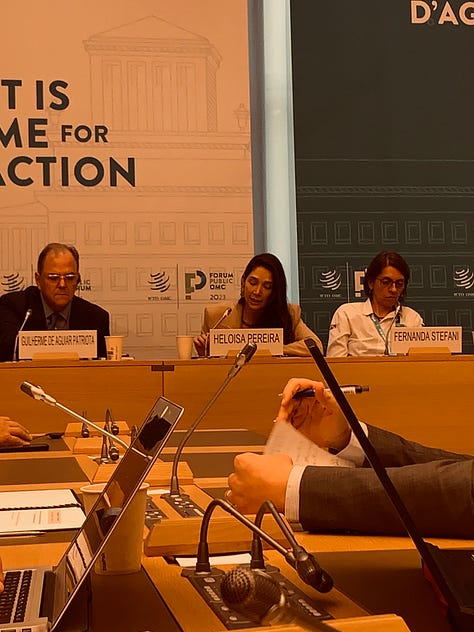 We spoke with Bruno Capuzzi, the Brussels office representative of APEX, the Brazilian Trade and Investment Promotion Agency (ApexBrasil), a government body that supports industry to export and stimulates FDI in the country. We will publish the interviews with panel participants next week. Keep your ear to the ground.
Digitalisation and Knowledge Management Crucial to Harness Value of Data Sitting in Electronic Vaults
Fabrice Boudot, from the Information Technology Solutions Division of WTO, on a panel with UNICC Director Sameer Chauhan, discussed the impulse there is at the moment for digitalising and managing knowledge systems to harness the power of the vast quantities of data that the WTO produces daily, from text-based assets to multimedia assets, and the visual history of the GATT and WTO.
International organisations as repositories and custodians of these documents need to digitalise, and fast — these assets are meant for scholars, delegates, trade experts and policy-makers, as well as the news media, academics, and diplomats that work on international trade law that need access to this treasure of historical data and visual heritage, be it photos, videos, or film. There is no point on having all this data if it cannot be actionable. There is an urgent need to make massive investment in human resources and digital infrastructure at the WTO.
One point is clear, AI can help sift through and organise reams and clusters of data swiftly. But donor-countries have to step-up and invest more on what constitutes the body of knowledge of the WTO, and other IOs, that belong to all citizens, and should be made accessible online.
That is part of the raison d'etre of the Public Forum.
When I first covered the WTO from the newsroom of Bloomberg TV in New York, it was during the ministerial in Seattle, protesters had taken to streets, had violent clashes with the police, were vandalising buildings and calling for a halt of globalisation. What a difference 23 years make. The WTO now brings civil society to the negotiating table, to listen, to ponder, to act. And launches a report on de- or re-globalisation. Indeed, it is time for action.
The UN Brief is also a reader-supported publication. To receive new posts and support our work, consider becoming a paid subscriber.
Now all eyes on the UN General Assembly.
As delegations are getting ready for the UN General Assembly next week, I interviewed Chris Sharrock, Vice President of Microsoft's Office for UN Affairs and International Organisations to discuss their work towards the UN Sustainable Development Goals, and the SDG report that they will present and how Microsoft contributes to making sure a skilled workforce is ready for the future.
We spoke about the many initiatives underway, and the growing number of countries where they are delivering the AirBand Initiative, that deploys the infrastructure necessary for providing high-speed Internet access to underserved populations in the Global South, to ensure that their citizens can be part of the global digital economy.
We also spoke about trust and governance in AI, and the many discussions around safety and the opportunities afoot in areas of climate change mitigation, education, and the SDG Summit, the Summit for the Future, and the Climate Ambition Summit.
How Microsoft is Contributing to the UN SDGs
Christopher Sharrock is the Vice President of UN Affairs and International Organizations at Microsoft, in Paris. They partner with the UN and its specialised agencies, as well as other multilateral bodies around the world, to deliver technology tools and services that help bring economic growth, trust, sustainability, and education that will ensure that everyone can benefit from the digital economy.
Bio

Source: UN website/Microsoft

Mr. Sharrock is committed to strengthening partnerships across key organizations and advancing the UN Sustainable Development Goals. Previously, he led work to establish a Data Science strategy at HM Treasury in the United Kingdom and spent 5 years as the United Kingdom's Permanent Representative, and Dean of the Ambassadors, at the Organization for Economic Cooperation and Development and International Energy Agency in Paris.  Prior senior roles include Deputy Director of Debt and Reserves Management at HM Treasury, and Chief Economist at the Department for Culture, Media and Sport.

Mr. Sharrock has worked across domestic, financial, European Union and International policy, including in the Private Office of the Chancellor of the Exchequer. Before joining the UK Civil Service, he taught in schools in the United Kingdom. In August 2022, Mr. Sharrock joined United States Council for International Business's Board of Directors.
Geneva, 15 September 2023
Maya Plentz: Microsoft is going to be presenting its SDG report during the UN General Assembly, in New York, next week, tell us a little bit about the report, what are the main drives? I know you have framed your report, this time around, on four of the 17 UN Sustainable Development Goals.
Chris Sharrock: Let me first of all just say a little bit about what we're doing. There's going to be a lot going on with the SDG Summit which, obviously, is the big focus. Not only that, we have the Climate Ambition Summit, we've got several important meetings on health and, of course, the ministerial on the Summit for the Future.
Just as we did last year, we will have senior Microsoft executives coming to New York as well, we will have Microsofts' President Brad Smith here, Melanie Nakagawa, who's our Chief Sustainability Officer, Juan Lavista Ferres, Chief Data Scientist, who also spoke at the ITU event earlier this year on AI for Good, Kate Behnken, the VP and Lead of Microsoft Philanthropies, Natasha Crampton, who's our Chief Responsible AI officer, Corporate Vice President, and Teresa Hutson, our Corporate Vice President for Technology for Fundamental Rights, among others.
We believe Microsoft as a company can be supportive of the UN mission. And the reason that we publish a report focused on the sustainable development goals is that this is such an important, common agreed, cause for the world. We do have this set of 17 SDGs, which everyone's going to speak about this week, how difficult the situation is with only 12% of the targets on track to be reached. And everyone's going to acknowledge the need for catalytic action to try and accelerate that.
And we set out in the report a little bit of how we think we can contribute. I should say, before I dive into the individual SDGs, just as a reminder, the SDGs are in complete alignment with our mission, as a company.
Our mission as a company is to empower every individual and every organisation on the planet to achieve more. And that's fundamentally what the 17 SDGs are doing. And of course, you have to look at all 17 SDGs together. We're not suggesting that some are more important than others. But what we're trying to do in the report is be as concrete and practical as we can and say, look, these are some real game changing uses of technology that a company like ours can try and do.
Maya Plentz: Around the SDGs you have already many initiatives, like for SDG 4, which focuses on quality education, you have the Learning Passport, with UNICEF, you have Learning to Earning skills building. Tell us a little bit about the other initiative that is skills building in AI. The AI Skills Initiative is also is part of that thrust for SDG 4.
Chris Sharrock: SDG 4 is supporting access to quality education. If we're not delivering, and this is reflected actually in the Summit for the Future documents I've seen, if we're not delivering for youth and for future generations, then we're not going to make progress. We've got all the partnerships around learning passport with UNICEF and those initiatives that we've been driving out to try and use our digital platforms to deliver learning in the Global South, including where there isn't internet connectivity, but increasingly what we're seeing is that the skills that are needed are the skills that are going to equip people to get the jobs that are being created and the jobs of the future.
And that's where we're looking at AI skills, not only, we have for the last year or so, been looking at cybersecurity and identifying that there are skills gaps. And if we don't act early and quickly to make sure that people have access to the training that they need to use these new technologies, then the benefits of these technologies will not be realised. So that's what's led us to really focus on skilling for AI.
Maya Plentz: And also SDG 8, which focuses on decent work and economic growth, which also, again, the AI skills initiative are a part of, it is supporting that goal as well, as well as the Learning to Earning. You have several programmes happening in several countries right now, what specific programmes you want to highlight?
Chris Sharrock: I think the progress that we've made through the AirBand Initiative, because you picked up on SDG 8, but I think we can also look just look at SDG 1, which is about poverty reduction, if we don't get internet access to a reliable high speed broadband connection, if we don't do that at scale, across those places that are currently unconnected, then those places are not going to have access to the economic growth opportunities of the future. So, the AirBand Initiative is designed, working in partnership with others, to deliver internet coverage. And we've made commitments to deliver that to 250 million more people living in underserved areas around the world. And we are targeting 100 million of those in Africa by 2025. And once you get that connectivity, then you can couple that with the skills. And with those two things, you can deliver jobs and opportunities.
Maya Plentz: Let's talk a little bit about LDC5, that was the first time that a private company actually co-chaired a forum at a UN conference of this size and reach, what were the outcomes, insights, that now you're bringing to the discussion table at the General Assembly this coming week?
Chris Sharrock: That was a big highlight of the last 12 months. Earlier this year in Doha, in Qatar, Microsoft actually co-chaired the private sector forum, and we brought 400 companies to the UN Conference on the Least Developed Countries to have a dialogue with governments, to talk about how we can co-create the solutions. And that's all captured in the Doha Development Agenda, which was agreed and I think that was an important moment that feeds into the conversation around the SDG Summit. We're very proud of the work we did there.
Maya Plentz: And to wrap it up, tell us a little more about some of the events and meetings that will be happening, that you want to highlight for the diplomats that are reading us, that they could be keen on participating and following-up?
Chris Sharrock: Well, we'll be following very closely what the diplomats are doing and recognising entirely the discussions that are happening in the SDG Summit, and in the Climate Ambition Summit. And in the preparation for the Summit of the Future, where the agenda of the United Nations meetings is established.
And we'll be taking part in those to the extent that we can, and a couple of other things that are outside of the General Assembly itself.
There's a very important discussion that the United States Secretary of State Antony Blinken is participating in, and what the US is really trying to do there is to build on the White House voluntary commitments around AI from July, to demonstrate how AI can deliver positive societal good.
So that's going to be a really important moment, to talk about the positive impacts of technology, of course, if it's deployed responsibly, and sticking with the subject of AI, I think there is going to be a further meeting that the United Nations Secretary General Special Envoy on Technology, Amandeep Gill, is convening with Secretary General Antonio Guterres, to discuss the next steps on their advisory body on AI which I think is going to help feed members thinking, and the Secretary General's thinking on the role that the UN could play in responsible AI. And of course, that's really important for us, because we've said, publicly through everything that we've been saying on AI, that every technology can be a tool or can be used as a weapon. And we have to engage in conversations with countries about the responsible use of AI. So, hearing what the UN is doing, there is going to be a very important discussion for us, as well.
Maya Plentz: Is there is anything else you'd like to talk about, that I haven't mentioned?
Chris Sharrock: I think perhaps two other things, one is that we we mustn't look at what happens in New York this week, in isolation, we publish our SDG report at this point in time because we think it can be a helpful way of bringing attention to what we're doing.
But of course, we look at what happens throughout the year. And we will, as soon as the high level week concludes, we'll start thinking ahead to the COP meetings in December. And I think the Climate Ambition Summit will be an important part of the discussions here, this coming week. I would stress the importance we attach to environmental sustainability, in this work as well. And when you look at the report, as well as talking about the SDGs, when we talk about four pillars, which really underpin our commitment, we're talking about the role that technology can play, to advance the SDGs, if it's used responsibly.
There are four things that we're really trying to do with technology. We're trying to expand opportunity. That's about economic growth, and economic growth and opportunity for everyone. We're trying to earn trust. And that's really about helping everyone understand the way that technologies can be used and can be put to use in a responsible way. We're trying to protect fundamental rights.
That's because we believe that we have a responsibility to help protect people's rights in an increasingly digital world through promoting responsible business practices like digital safety, and we're trying to advance sustainability as well. So those four pillars really underpin our work throughout the year. This is a good moment for us to talk about how they map onto the SDGs. And I look forward to carrying on the conversation after this week as well.
How AI is Deployed in Disaster Management
By Juan Lavista Ferris, Microsoft Chief Data Scientist
Our thoughts are with the residents of Libya following the massive and destructive impact of the floods there. Microsoft is currently working with United Nations Humanitarian Relief Agencies, Planet, and other organizations to provide a preliminary analysis of the damage sustained by the affected communities. 
We have leveraged our AI models designed to assess damaged buildings from satellite imagery to process Planet's satellite data, which was captured after the floods. We are offering access to this data to any organization involved in relief efforts. Feel free to reach out to me directly for the full dataset. 

It's important to note that there is uncertainty in building footprints, and that building labeling efforts are ongoing by humanitarian organizations.
This analysis was different than others we have conducted, in that many buildings were completely washed away, and we had pre- and post-event imagery that were ten days apart.  

Because of these differences, we trained a change detection model which looks at both the pre- and post-event imagery and assumed that all change was caused by flooding. The output of this model is in the red overlay on the visualizer.
We then intersected the change layer with two building footprint layers: 1) an incomplete set of OpenStreetMap building footprints; and 2) a building footprint layer we generated based on just the pre-event imagery.
We have used both OpenStreetMap and our own building segmentation model to estimate damage, with a range of damage between the two models.  

Using the incomplete OpenStreetMap data, our models show: 

2714 buildings with damage fraction between 0% and 20% 
42 buildings with damage fraction between 20% and 40% 
36 buildings with damage fraction between 40% and 60% 
35 buildings with damage fraction between 60% and 80% 
365 buildings with damage fraction between 80% and 100% 
Using our pre-disaster building segmentation model with broader coverage over the damage area, our models show: 
13797 buildings with damage fraction between 0% and 20% 
93 buildings with damage fraction between 20% and 40% 
71 buildings with damage fraction between 40% and 60% 
74 buildings with damage fraction between 60% and 80% 
961 buildings with damage fraction between 80% and 100% 

Our AI model bases its assessments on satellite imagery, which, while powerful, covers only a portion of the affected area and has limitations. The data and accompanying maps should serve as a preliminary guide and require on-the-ground verification for a thorough evaluation.  

The AI for Good Lab is committed to aiding recovery efforts and sharing valuable information that can accelerate the restoration of impacted communities. 

Visualizer: https://lnkd.in/g5jEDt5m
Climate Ambition Summit
Interview with the United Nations Secretary General Special Envoy on Technology, Ambassador Amandeep Gill
"Next week is one of the most important high-level, General Assembly, weeks. Why do I say that? Because we have the midterm review of the SDGs. So it's a big, big moment, for agenda 2030, and the Sustainable Development Goals framework."
UN Secretary General Envoy for Technology, USG Amandeep Gill
Listen to my interview with UN Secretary General Envoy on Technology, former UN Permanent Representative of India in Geneva, Ambassador Amandeep Gill, and founder and former CEO of I-DAIR, a health and AI initiative based in Switzerland.
We spoke about the upcoming high-level week and how digital and the climate will be at the centre of discussions, with the SDG Summit, the Summit for the Future and the Climate Summit, and the Universal Healthcare Summit led by WHO Director General.
Source: UN website

Bio

Amandeep Singh Gill

Secretary-General's Envoy on Technology

Office of the Secretary-General's Envoy on Technology

Mr. Gill is a thought leader on digital technology, he brings to the position a deep knowledge of digital technologies coupled with a solid understanding of how to leverage the digital transformation responsibly and inclusively for progress on the Sustainable Development Goals. 

Previously, he was the Executive Director and Co-Lead of the United Nations Secretary-General's High-Level Panel on Digital Cooperation (2018-2019).  In addition to delivering the report of the High-Level Panel on Digital Cooperation, Mr. Gill helped secure high-impact international consensus recommendations on regulating Artificial Intelligence (Al) in lethal autonomous weapon systems in 2017 and 2018, the draft Al ethics recommendation of UNESCO in 2020, and a new international platform on digital health and Al. 

Mr. Gill was India's Ambassador and Permanent Representative to the Conference on Disarmament in Geneva (2016-2018).  He joined his country's Diplomatic Service in 1992 and served in various capacities in disarmament and strategic technologies and international security affairs, with postings in Tehran and Colombo.  He was also a visiting scholar at Stanford University.  

Mr. Gill holds a PhD in Nuclear Learning in Multilateral Forums from King's College, London, a Bachelor of Technology in Electronics and Electrical Communications from Panjab University, Chandigarh and an Advanced Diploma in French History and Language from Geneva University.  He is fluent in English, French, Hindi and Punjabi.